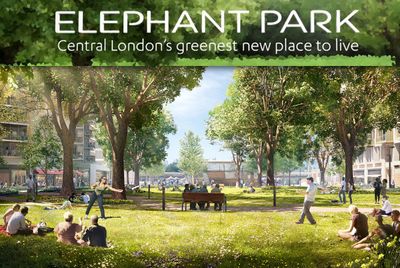 Last week, Elephant & Castle developer Lend Lease was awarded participant status in Bill Clinton's Global Climate Initiative. According to C40 Cities Group - a group of cities world-wide combating the effects of climate change - 'Climate Positive Development Partners have made a commitment to achieve net-negative, on-site, operational greenhouse gas emissions'.
The Elephant's regeneration first attracted the Clinton foundation's attention while it still included plans for having a Multi Utilities Services Company (MUSCo) as part of the Heygate and shopping centre redevelopment. This would have produced 100% renewable energy on-site, with zero carbon emissions, and possibly more than was needed, making it 'carbon positive'.
MUSCo vs Emission Reductions
The Global Climate Initiative participant status has been awarded to Lend Lease for reducing operational emissions, in other words reducing day-to-day C02 emissions from homes and businesses. The MUSCo would have done more than this: it would have provided its own renewable energy making the entire development self-sufficient. The MUSCo was dropped from the Regeneration Agreement Southwark signed with Lend Lease in 2010. Instead of producing renewable energy on-site through the MUSCo Lend Lease are planning to buy in biomethane gas from off-site producers, rather like using a green electricity tariff. A close reading of this Energy Strategy tells us that while it might have won an award from Bill Clinton, it does not conform to Southwark Council's planning policy requirements:

Lend Lease assert that notwithstanding this failure, energy emissions will be over 50% less than they would have been without the its strategy of 'energy hierarchy principles and…energy commitment'. It also lives in hope that Southwark will have a change of heart;

In short, Lend Lease's energy strategy is simply to buy in biomethane gas and hope that Southwark brings its planning policy into line with its proposals.
Biomethane can be a good source of renewable energy but it does need plant to produce it, which is why Southwark's policy requires it to be on-site. The policy needs improving too: the renewables requirement currently stands at 20%, the MUSCo would have provided 100% - which is what is needed if we want truly sustainable cities.